Benefits Delivery at Discharge Claims: Here's What You Should Know
Posted by Gregory M. Rada | June 9, 2022 | Disability Compensation,State Veteran Benefits
The VA established the Benefits Delivery at Discharge (BDD) program to help eligible veterans receive their VA disability compensation benefits as soon as possible after they are released from active duty. In short, the BDD program allows a service member to apply for their VA benefits while they are still on active duty so that VA can approve the benefits and the veteran can start receiving the benefits as soon as they are discharged.
How Does the BDD Program Work?
To participate in the BDD program, you must filed a new claim with the VA using the VA Form 21-526EZ, which you can do online at VA.gov, via mail, or in person. Your unit should be able to point you in the right direction to get started. Once you file the claim, the VA will obtain your service treatment records and then schedule you for any necessary VA examinations. 
After all the VA examinations are complete, the VA will issue a proposed rating decision that will explain what the VA is granting or denying. As soon as you are discharged from the military, the VA will issue a formal rating decision and you will start receiving your VA disability compensation benefits. If you are not satisfied with the rating decision, you can then start the appeal process. 
Who is Eligible to Participate in the BDD Program?
You are eligible for the BDD program if you meet all the following requirements:
Be on full-time active duty;

Have a known separation date;

Have a separation date 90 to 180 days from the date the claim is filed; and

Be available to attend VA exams during the 45-day period after the date you submitted your claim.
If your VA claim requirements special handling – such as if you are waiting for the VA to determine the character of your discharge, or if you've suffered the loss of a body part, or are terminally ill or pregnant – you cannot participate in the BDD program. Those members can of course still apply for VA disability benefits through the normal process. 
BDD Program FAQs
How long does it take to process my claim?
Claims submitted through the BDD program usually take 60-90 days to process, although this timeline can vary depending on the specifics of your claim. The goal of the BDD program is to ensure that a veteran starts receiving their disability compensation payments within 60 days of discharge.
Are there any other benefits to the BDD program?
Aside from receiving your benefits soon after discharge, participating in the BDD program makes it so that your VA exams are performed during active duty. This can be beneficial because if you receive a new diagnosis during a VA exam, you'll have proof that it first started on active duty because the exam that diagnosed you was performed on active duty. 
Can I claim additional disabilities after I've filed a claim in the BDD program?
If you are still at least 90 days prior to separation, you can add disabilities to your BDD claim. If there are less than 90 days before your separation, the VA will process any additional claimed disabilities after your discharge.
An Experienced VA Disability Lawyer Can Help
If you are not satisfied with the rating decision you receive from the VA through the BDD program, contact me to see if I can assist you with an appeal. Here's a step-by-step breakdown of my approach to making sure you receive the benefits you deserve:
Step 1: Initial Consultation
The initial consultation is free of charge and confidential. We'll discuss your case during this meeting and determine whether there are grounds for pursuing an appeal. 
Step 2: Initiation of Representation
Once we've determined that there's merit to your claim, I will draft representation paperwork and email it to you for electronic signing. I'll countersign the representation paperwork which is when I officially become your attorney for purposes of VA benefits.
Step 3: VA Claims Review
I then review your entire VA claims file to ensure that everything is in order before submitting your appeal to the VA. This is the most critical step, as it helps me pinpoint errors in your case that may affect the appeal.
Step 4: Client/Attorney Conference
At this point, we'll discuss the findings from my review of your VA claims file and I'll outline my recommendations for next steps in your appeal.
Step 5: Evidence Development
We'll gather and develop the evidence needed to win your appeal, which may include obtaining medical records, drafting statements from you, family members, friends, or coworkers, and obtaining any required independent medical opinions or vocational assessments.
Step 6: Submission to the VA
After developing all the necessary evidence to win your VA disability compensation appeal, we submit your appeal along with the evidence to the VA. After we submit everything, we wait for a decision.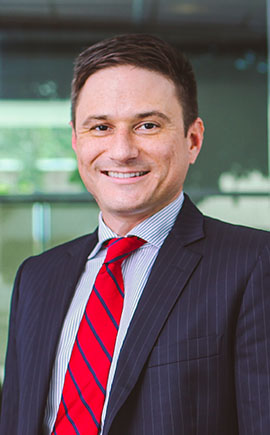 Gregory Rada is an Air Force veteran that helps veterans nationwide receive the benefits to which they are entitled. He works with all his clients one-on-one from the start of their case to the end and never hands them off to case managers or paralegals. Learn more about his experience by clicking here.